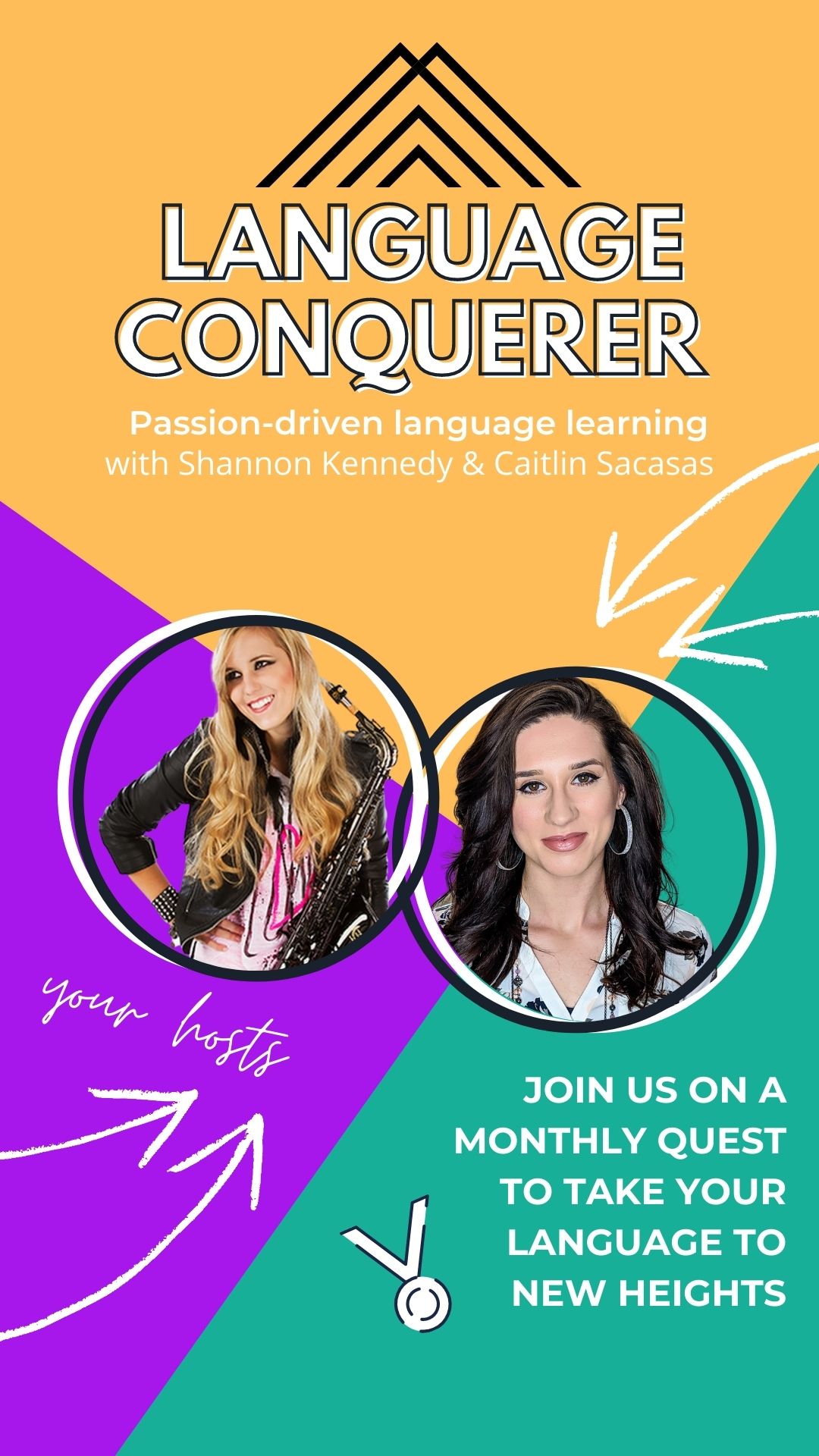 Language Conqueror
A course created by language learners for learners using tried and tested methods for aspiring language learners who are looking for direction, motivation, and more excitement in their learning.
Turn language learning into a passion now!
Tired of the same old boring language learning resources?
Less than 1% of American adults are proficient in a language they learned in the classroom.
Does this statistic have you nodding your head?
We're not surprised—many learners lack the motivation or means to continue their studies on their own once their classroom studies come to an end. They just can't find the time to fit it in, nor the materials to keep them engaged.
Sound familiar?
Join us on monthly Quests to discover your passion for language learning.


Introducing....
Language Conqueror
Reach new heights with passion-driven language learning.
with your hosts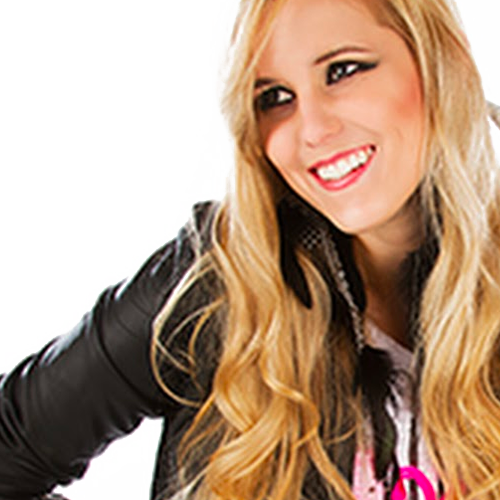 SHANNON KENNEDY
Shannon is a language lover and content creator sharing her passions over at Eurolinguiste. She's also the Resident Polyglot at Drops, the co-host of the Language Hacking Podcast, Head Coach of the Fluent in 3 Months Challenge, and co-founder of Women in Language.
Shannon speaks 14 languages at different levels including French, Chinese, Hungarian and Croatian. In addition to loving languages, she enjoys martial arts, video games, is a Batman and Legend of Zelda fan, and is a mom to two Little Linguists.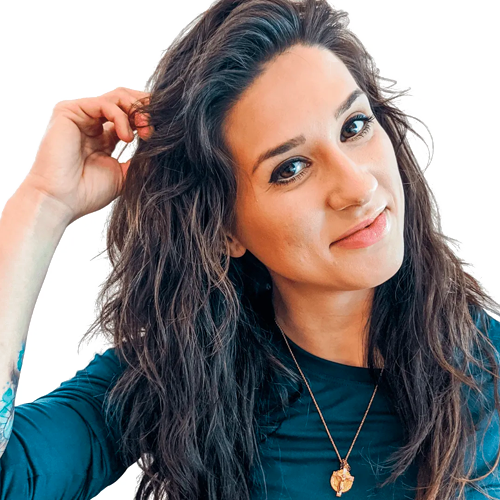 CAITLIN SACASAS
Caitlin is a personal trainer and writer, running two of her own blogs: Rebel Heart Beauty, a fitness and sustainability blog, and 5 Minute Japanese, dedicated to teaching Japanese learners fast. She's also been a contributing content creator at Fluent in 3 Months.
Caitlin speaks Japanese, and is currently learning Korean and Spanish. Her goal is to speak 10 languages fluently. She's loves learning languages through her passions, especially fitness and tv shows. She's a huge Star Wars nerd and mom of two little Padawans.
If you struggle with maintaining your language learning motivation, you're not alone.
We've worked with thousands of language learners over the years and there's something they all have in common...
At some point, they lose their language learning drive.
It may happen early on after the newness wears off. Or maybe it's a little bit later when you're not sure what to work on next. Sometimes it's when you hit the intermediate plateau. And others, life just gets in the way.
The key to keeping your language learning up is knowing how to rekindle that flame.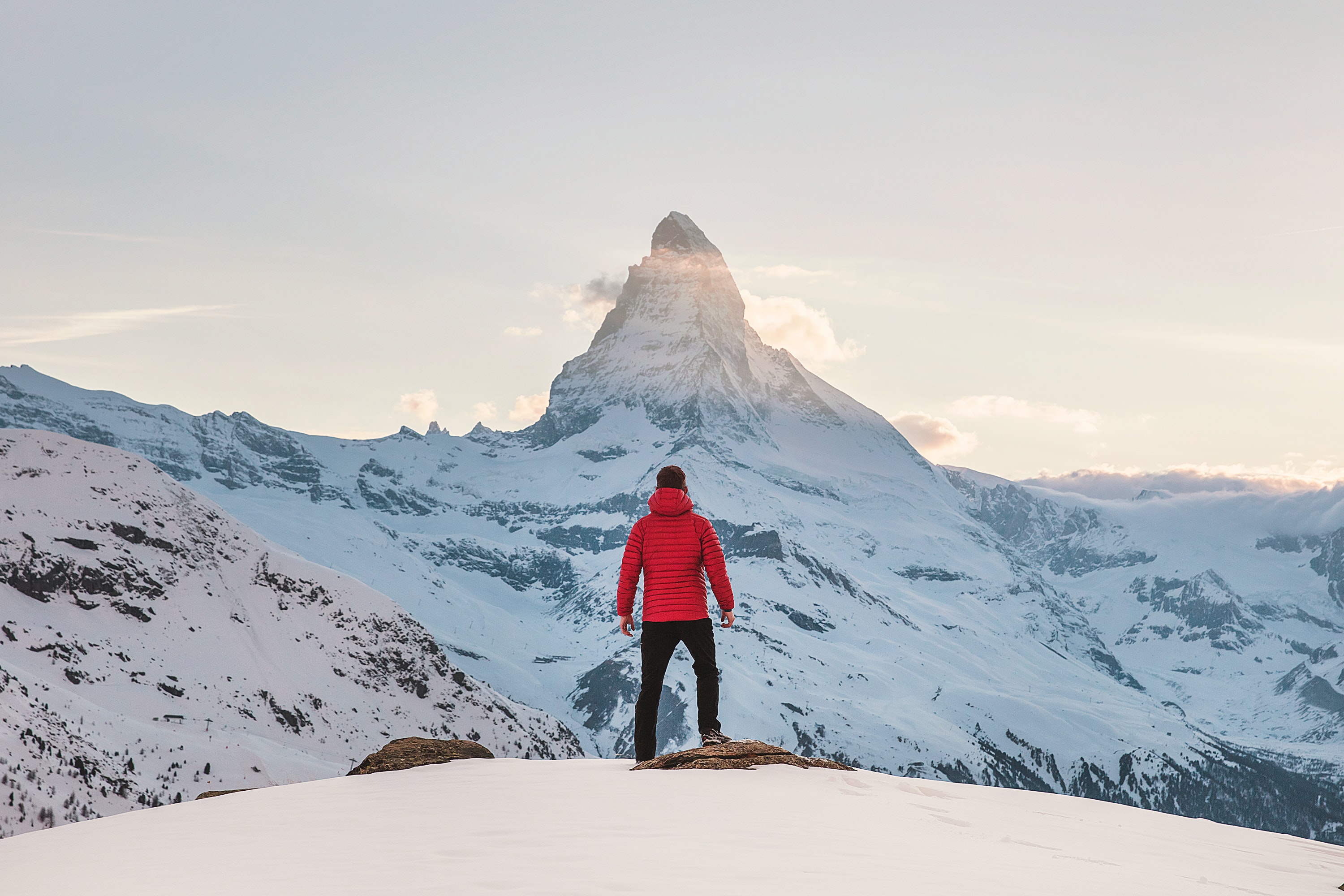 So if you've...
...fallen out of love with your language.
...dread sitting down to study.
...are unclear about what your goals are.
...learned you're at expert level in finding anything else to do that isn't learning your language.
...or feel like the work you're putting in isn't getting the results you want...
You're in the right place.
A Series of 30-Day Quests
We've put together a series of 30-day Quests for you to incorporate languages into your daily routine, finally find the time to learn a new language, and learn to talk about the things that matter most to you.
But most importantly, you'll find out how to fall in love and stay in love with your language all over again.
We're all about making language learning fun and relevant.
That's why we share Quests to help you develop language skills around your personal hobbies and interests so that you can not only have fun while learning your language, but also create a sustainable learning habit, end the struggle to find motivation to sit down and study, and foster a true passion for language.
Here's a peek at our current challenge:
Or keep reading to learn how to enroll in our Master Quest program.
Here's how Language Conqueror Works
Each month, you have the option to take part in a new Quest that focuses on your passions, interests, and lifestyle.
Each Quest is brand new and created specifically for Language Conqueror.
They include:
A video lesson introducing the Quest
A workbook with all the exercises and instructions you need to complete the Quest
A video demonstrating the Quest in action from one of our hosts (or special guests)
Trade secrets from Shannon and Caitlin: these are tricks you can use to succeed at your Quest
A Side-Quest: an action you can take to help you gain the confidence you need to complete your Quest
Access to the Quest community so you can collaborate with other learners, share what you're working on, and get support
Your Quest: the final assignment you complete to put everything you learned over the month into practice
If you put in just 15 minutes of work each day, you'll complete your Quest and start to see real, measurable results in your language.
You'll start to enjoy your language studies, find new ways to make your language a part of your life, and have a place to share your passions and progress.
What other benefits come with Master Quest?
You get almost two Quests free by enrolling in Master Quest (or $89 off the price of buying all 12 Quests individually)
Bonus: A live Q&A with our hosts at the end of the month where you can ask questions (@Caitlin Sacasas what value do you want to attach to each of these bonuses?)
Bonus: Access to all 12 private quest groups and more in course community
Bonus: 1 Coaching call with Shannon and/or Caitlin upon enrollment
Bonus: Regularly updated recommended reading & resources list
Just click the enroll button to sign up.
What are some of the topics we're covering in
Language Conqueror Master Quest?
January: Go-getting, Goal setting
Explore a variety of goal-setting techniques and explore building a systematic approach to your language studies to get a head start in the new year.
February: Mind Your Habits
Learn about various habits and routines you can establish to make language learning a part of your day-to-day life.
March: Foodie Fun
Everyone loves food, or at the very least, the experiences that happen around food. Find ways to have fun with food and your language in this Quest.
April: Flair for Dramas
Discover how to learn with dramas and tv shows by learning how to do everything from find content in your new language, how you should set the audio and subtitles, and what kind of media works best.
May: Mindfulness Matters
In this Quest, we team up with Jessica Tegfenki Ruelle to discuss mindfulness in language learning and thoughts on how to discover your identity through languages.
June: Let's Get Physical
Movement is said to help improve memory which is why you'll combine physical activities with language learning in this month's Quest.
July: All in the Family
They say children learn languages best, and while we don't believe this is true, there's still a lot you can pick up from children about how to approach language learning both in learning like them and with them.
August: Mnemonic Mastery
Mnemonics are an effective way to memorize new vocabulary and grammar–that's why it's used by so many memory champions. And this Quest, you'll learn strategies to make this technique your own.
September: Joys of Journaling
Writing things down by hand is a good way to make what you're learning stick, and that's why language journaling can be so effective. But there are many different ways to take notes, so this Quest will help you develop your journaling style.
October: Social Media Methods
Not all time on social media needs to be idle time. In fact, social media can be another language learning tool in your toolbox. This Quest will teach you how to make social networking work for you.
November: Time Management Mogul
At the end of the year, there's a lot you're likely trying to squeeze in and it can seem like there isn't any time for language learning. This Quest will help you find ways to make language learning a part of your life even on the busiest of days.
December: Meditation Motivation
Meditation has a wide range of benefits and it's something you can incorporate into your language learning routine. Enter the new year with a refreshed sense of calm and a new way to habit-stack your language studies.
Is Language Conqueror right for you?
You'll LOVE Language Conqueror if...
you're struggling to stay motivated to learn a language
you're not sure what to do next to keep learning
you feel disconnected from your language studies
you're up for an adventure and are willing to try new things
you want to connect with other learners
Language Conqueror probably isn't for you if...
you don't have any trouble staying motivated to study your language
you are looking for a course that teaches a specific language
you aren't willing to commit at least 15 minutes a day to your learning
you aren't up to trying new things
Discover your passion for language learning, one monthly Quest at a time.
What happens when you enroll?
Here's what happens when you decide to join Language Conqueror:
You select "Enroll Now" for either Master Quest or the current Monthly Quest and are taken to checkout.
Once you enroll, you'll receive an email with instructions on how to join the Language Conqueror community.
The content for the upcoming Quest is released at the beginning of the month it is being hosted. We'll send you a message when it's available.
Frequently Asked Questions
Who is this course for?
Language Conqueror is for learners of all levels. When we release each Quest, there are two versions of the Quest demonstration—one for beginners and one for intermediate or advanced language learners. In other words, Language Conqueror is perfect for any learner of any level.
What language do you teach? Do you teach French / Japanese / English / Spanish / etc.?
Language Conqueror is not a language-specific course. We believe that learning how to learn, how to create a sustainable learning plan, and maintain your motivation are the keys to successful learning. That said, between the two of us, we have experience with more than 15 languages and are eager to share our experience and expertise with learners in the course.
How do I access the course?
You can access the course from any device (mobile, desktop, laptop, tablet) with internet or data. The course community can be accessed from your browser or a third-party app.
How do I know if this course is right for me?
If you're struggling with motivation, time management, fitting language learning into your life, or knowing what to do to move forward in your learning, this course is for you. During each Quest, we focus on techniques to help you build motivation and make languages a part of your life.
What if I need more time to complete a Quest? / How long do I have access to a Quest once the month is over?
Once you purchase a Quest or Master Quest, you have access to the materials indefinitely. You can take as much time as you need to complete each Quest. The community is most active while the Quest is live, but you can always access any archived Quest material at a later point, whether it's to complete the Quest for the first time, or to refresh what you've learned.
Are the lessons live?
The lessons are not live, they're recordings we share at the beginning of the month so that you have as much time as possible to work through the Quest.
At the end of each month we host a Live Q&A for Master Quest methods. The Live Q&A videos are recorded and shared if you cannot attend the live session.
You have indefinite access to the Quests and Master Quests you purchase.
What if I don't like the course?
If your purchase Master Quest, our 12-month package. We have a 30-day refund policy.
If you purchase a one-month language Quest, we do not offer refunds due to the nature of digital courses.
Additional things you may need to know:
If you are located in the EU, there may be an additional VAT tax. This is something we have no control over and we appreciate your understanding.